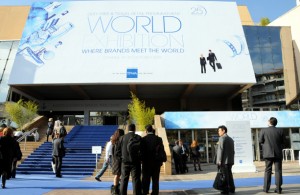 Tough, but promising. The news from the travel retail and duty-free market is optimistic. But this is one sector that has to react quickly to market changes.
This year's Cannes event will explore how the industry is reinventing itself and what more can be done to provide fresh impetus. Themed "A new era: reinventing duty free and travel retail", the conference will showcase vision, new ideas and challenging concepts.
TFWA President Erik Juul-Mortensen will highlight some of the external elements which are influencing duty free and travel retail today and thinking ahead to what can be done to introduce new ideas. He will encourage the industry to set new sights and standards.
Jean-Paul Agon, CEO of L'Oréal, will offer his vision on how the industry could and should reinvent itself. L'Oréal is the industry's leading group with almost $2.5 billion in 2009, representing just under 7.2% of the global duty free and travel retail business (Source: Generation).
A major factor influencing how brands and retailers are rethinking their strategies is the ever-increasing demand among consumers for more socially and environmentally conscious products and services. Lord Alan Watson is Chairman of Havas Media UK, part of the global advertising network which has produced a second edition of its Sustainable Futures research. The research looks at how consumers perceive businesses and brands in their drive for sustainability and how this perception affects their purchasing decisions.
Exhibitors at TFWA include 46 of the world's top 50 companies in the fragrances & cosmetics,
wine & spirits, confectionery & fine food, tobacco sectors ranked by global duty free and
travel retail sales in 2009, according to Generation Research, Sweden. The leaders of
other luxury goods categories such as jewellery, watches, gifts, electronics and fashion are
also participating in the exhibition.
There will be an Airline Workshop and an Asia Pacific Workshop as well as the TFWA Industry Association Workshop on Wednesday. Visit TFWA.