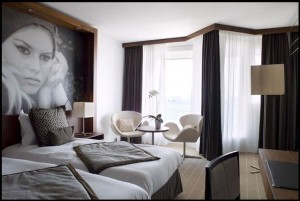 Following the news that the 1835 White Palm in Cannes has just become the Radisson Blu comes the news that the Palais Stephanie will soon become the JW Marriott in a management agreement with Jetsa Group.
The hotel was built on the former site of the Palais des Festivals of Cannes, the original site of the International Film Festival from its inception in 1946 to the mid 1980s. Recently renovated, the design reflects its glamorous film heritage, paying tribute to the film stars of the past including Sophia Loren, Brigitte Bardot, and Elizabeth Taylor.
On a practical level, the hotel's location on the Croisette and its ample roof mean that it is often used by film and TV companies as their headquarters during the festival and market. The JW Marriott Hotel Cannes will offer an 820-seat theatre auditorium and 16 meeting rooms with 12,900 square-feet of flexible space. Its recent renovation (and re-naming) brought it a five-star rating. Marriott is currently in acquisition mode in Europe.
To book a sea-view or city-view room on the Croisette. UPDATE: December 2010. The Stéphanie is offering exceptional rates for the end of the year!