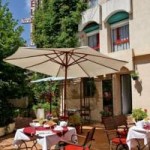 As I write this, we're just a few weeks from Cannes 2012. Accommodation is a bit of an issue by now, but there are a few good value locations left. Most of the deals are in Juan-les-Pins and Mandelieu, both of which are just 10 minutes by train from Cannes station. The only downside is that you have to be careful about missing the last train or bus back to the hotel.
Hotels in Juan-les-Pins
In Juan-les-Pins, one of the best offers is Hotel Teranga. Located just 50 meters from Juan-les-Pins railway station, this small hotel has its own garden (nice for breakfast) but no parking spaces.
The Hotel Savoy is a small property with good reviews close to the station. It offers good value, but Juan-les-Pins is surprisingly busy ayt night. So bear that in mind.
Further from the station, you'll find the Villa Nina. This is closer to the bus route, which is handy, particularly as you can reach the airport directly for €1.5! However, I have sometimes been stuck as buses into Cannes were full and didn't stop. Note that the hotel is near railway tracks. In doubt, I'd recommend bringing earplugs if you are a light sleeper.
Hotels in Mandelieu
Over in Mandelieu, Parks & Suites Village offers good value residence accommodation at about 10-15 minutes from the railway station. MMV Resorts has a charming lake and rooms. It would be best to have access to a car, however.
Studios in Cannes
Last thing: studios available in Cannes itself. L'esperance has a number of studios. located in Le Suquet, it is about 10 minutes to the Palais by foot.
For other ideas and deals, follow Cannes or Bust on Twitter. If you have any questions, comments or your own Cannes recommendations, please drop them below. If you have rooms to share use our  forum.
These recommendations contain affiliate links, chosen specifically for their value and comfort.