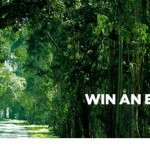 A little news to possibly cheer up filmmakers. Mofilm and Paper From Portugal are running a contest to send a film or video about Portuguese paper to the Cannes Lions 2012. The winner will spend three days at the world's foremost advertising trade fair with the guest of their choice (let me check my diary).
Apart from the fun of being in Cannes, the prospect of making some serious contacts is very high. Through the medium of film, Paper from Portugal wants you to help them raise online awareness of the fact that their high quality brands are creating more forests and a better future.
Needless to say, a brief is available on the Mofilm site which you will find here. Deadline, May 28 2012.