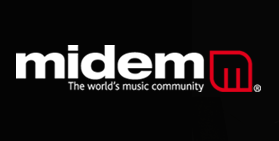 If you're considering attending Midem in Cannes next January, maybe you should make your mind up soon. The Early Bird deadline that offers a reduction of nearly 50% is set for October 31. This means the price is just €550 (+VAT). The rate for Midem + Midemnet is €1130, a reduction of 38%.
For this, you get access to the world's foremost music trade fair and/or the world's foremost mobile music conference. There are other fairs, of course. But none offer the scope of opportunities of Midem. Booking early and booking a flight early can take significant chunks off the price of attending. If you miss this deadline, the next one is December 19 (€780) and January 18(€950). The walk-in price for those that are chronically late is €1050 (+ VAT).
For your info, some 75% of the floorspace is already booked. For details visit Midem.