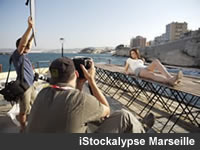 Cannes and the south of France are eminently photogenic. So it's only apt perhaps that the Sony World Photography festival will take place in the Palais des Festivals, Cannes between April 22-27. The line-up looks tasty, with photographer programmes from the likes of iStockphoto (tips on shooting for stock photos), a talk from Idris Khan and Adrian Boot delving into the challenging craft of portraiture photography and asking the question: Can a photograph ever tell a truth about the subject? There are also portfolio reviews, exhibitions and a bunch of people talking shop – never a bad thing. Don't forget the obligatory glitz of the awards ceremony.
I'm just not too sure how much all this costs. They have an à la carte pricing policy that looks great value to me even when I add bits up. For details, visit the World Photography Festival.
Here's a tip from us: The good news is that this falls in an off-season time for the hotels. So you can find great deals on our Cannes hotel deals site.