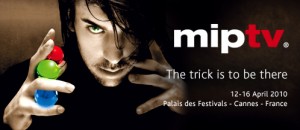 If you have ever wondered what the trick is to securing better deals and growing in the TV and content business, MIPTV has the answer: the trick is to be there. Even in the age of LinkedIn and social networking, trade fairs remain the place where the industry gathers, discusses and does business.
This is the theme developed by The Write Stuff & Consorcom, who have worked on 6 MIDEM campaigns, as well as several for MIPTV and MIPCOM over the years. The company has also worked for EAS in Amsterdam as well as developing the names for Amazia in Hong Kong and MIPIM Horizons. A little disclosure is in order as the same company runs Cannes or Bust!
To see more of their work, visit The Write Stuff.