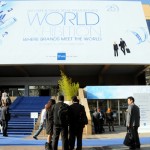 The exclusive travel fair TFWA will be increasing its space next September, using the new Golden Village and Marine Croisette areas in the Palais des Festivals.
Among the companies to occupy space in the new Golden Village extension are long-time exhibitor Hugo Boss; Brioni, the Italian fashion label that made its travel retail debut at TFWA Asia Pacific & GATE ONE2ONE earlier this year; Hong Kong design brand Shanghai Tang, returning to the exhibition; and Polaroid Eyewear, making its first appearance at a TFWA event.
Among new and returning exhibitors are those making their first ever appearance at a TFWA event, such as Polaroid Eyewear, Chinese cosmetics brand Herborist, La Martiniquaise rum and Danish jewellery supplier Dyrberg. For others this will be the first TFWA World Exhibition after exhibiting at TFWA Asia Pacific & GATE ONE2ONE earlier this year, such as Brioni, Murano glassware producer Formia, cosmetics company Condensé Paris and Château d'Esclans wines.
In separate news, TFWA also announced that Erik Thomsen, Regional Manager Europe – Global Travel Retail at William Grant & Sons has been appointed Vice-President Commercial on the TFWA Board.
TFWA will take place between October 17-22, 2010. For details, visit TFWA.
[simpleAdPlacement]