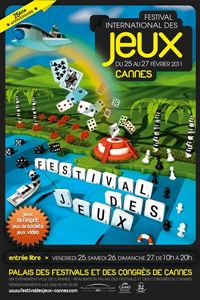 After welcoming 150,000 visitors last year, the Cannes' Festival des Jeux hopes to do better between February 25-27, 2010. The 25th edition of the event will feature tournaments, encounters with games in development, video games, mangas, special all-night sessions and much more. One of the highights will be a selection of the very best games of the past quarter century.
The event provides a platform for the annual French games awards, l'As d'Or (Golden Ace) with 10 games in the running:
* Cyclades by Bruno Cathala and Ludovic Maublanc (Matagot)
* Djam by William Attia (Asmodee)
* Fresco by Marco Ruskowski et Marcel Süßelbeck (Queen Games)
* Qwirkle by Susan McKinley Ross (Iello)
* Razzo Raketo by Steffen Bogen (Selecta Spiel)
* Skull & Roses de Hervé Marly (Editions Lui-Même)
* S.O.S. Octopus by Oliver Igelhaut (Filosofia)
* Troyes by Sébastien Dujardin, Xavier Georges & Alain Orban (Pearl Games)
* Water Lily by Dominique Ehrhard (GameWorks)
* 7 Wonders by Antoine Bauza (Repos Production)
For details about this family-friendly event, visit Festival des jeux.