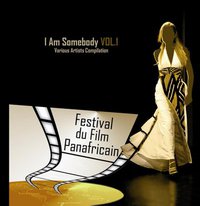 It must be hard, being the "other" festival in Cannes. But the Festival International du Film PanAfricain has been throwing a welcome spotlight on movies from Africa and the diaspora for 7 years already. I've often read comments about how very few African films that are given any attention at the Cannes Films Festival. So it's good to see a festival support this disparate community.
Under the supervision of the Franco-Moroccan director Mohammed Ahed BenSouda, the international jury will be rating films from Ivory Coast, Niger, Namibia, Morocco, Tunisia, Haiti and elsewhere. Many of the films are co-productions and will all too often not get an official theatrical release in Europe.
The festival is also noted for its varied musical and fashion programme (come on, this is Cannes after all). Highlights this year include a N'Goni master at the opening gala at the Martinez (April 13), Kristo Numpuby's (photo) highly-rated adaptations of George Brassens (Thursday, April 14), M'Toro Chamou on the 16th and Le Must du Jazz Tangora on Sunday 17.
Exhibitions and workshops complete the programme, which can be found at: Festival du Film PanAfricain