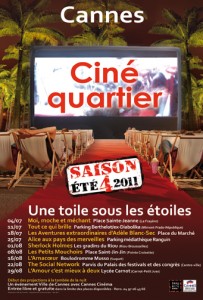 Good news: Cannes will be hosting a series of free open-air cinema screenings over the coming months. This is the fourth time the event is being held in different locations. The shows start at 10pm (except for three in August), but you must get there early to have a chance to get any of the 200 deckchairs!
Programme:
July 4 Place Sainte Jeanne (La Frayère) > Moi moche et méchant (animation) by Pierre Coffin and Chris Renaud.
July 11 : Parking Berthelot/ex- Diabolika (Mimont -Prado-République) > Tout ce qui brille de et avec Géraldine Nakache et Leïla Bekhti.
July 18: Marché de la Bocca > Les aventures extraordinaires d'Adèle Blanc-Sec by Luc Besson with Louise Bourgoin and Gilles Lellouch.
July 25: Parking médiathèque (Ranguin) > Alice au pays des merveilles de Tim Burton avec Johnny Depp.
August 1: Les gradins du Riou (Riou-Petit Juas-Vallergues) > Sherlock Holmes by Guy Ritchie with Robert Downey Jr. and Jude Law.
August 8: Place Saint Jin-Jin (Pointe Croisette) > Les petits mouchoirs by Guillaume Canet with Marion Cotillard and François Cluzet.
August 16 at 9.30: Boulodrome Musso (Suquet) > L'Arnacœur by Pascal Chaumeil with Vanessa Paradis and  Romain Duris.
August 22 at 9.30: Parvis du Palais des Festivals  > The Social Network by David Fincher with Jesse Eisenberg and Justin Timberlake.
August 29 at 9.30: Lycée Carnot (Boulevard Carnot) > L'amour s'est mieux à deux by Dominique Farrugia with Virginie Efira and Clovis Cornillac.