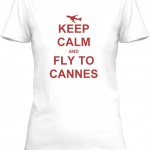 A little ad, if I may. Only four days are left in the sale of the first Cannes or Bust limited edition T-shirt. It's billed under the title: "When you find yourself in times of trouble, Keep Calm and Fly to Cannes".
It's dedicated to the heroes of popular culture that do just that. I'm thinking of Lindsay Lohan and Stella English who had the right idea.
It's a limited edition as only 25 will be printed IF there are 25 orders. It could be a fun gift for the woman in your life, which might just be yourself! ;- ) Sale ends November 26.
UPDATE: this sale has closed. But more Cannes goodies can be found at the A-Lyric shop.