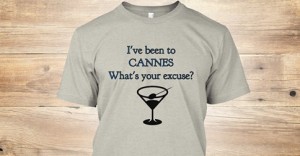 In time for Christmas, I decided to run off a T-shirt as a gift, and then thought that other people might like it too.
So if you've been to Cannes – or know someone that has – this could be a fun and inexpensive gift.
To keep it inexpensive (just $13, plus postage), it will only be printed if a minimum number of shirts are ordered (currently 10 spots until we print). If it's not printed, you obviously pay nothing.