MIDEM Early-Bird rate closes Nov. 30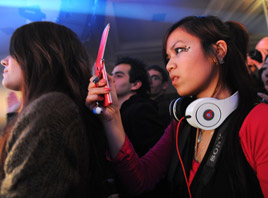 This is a bit last-minute, but anyone in the music business might want to benefit from this or send it to someone that could. The international music trade fair Midem 2015 will be held between June 5-8 next year in Cannes. The walk-in rate is EUR900, but until Sunday November 30, the early-bird rate is just EUR525.
Those extra EUR 375 could be used to offset the cost of a hotel such as this one almost opposite the Palais des Festivals or you could spoil yourself with a room upgrade. Alternatively, it could go towards the cost of a flight to the nearest airport at Nice.
More savings at Midem
But if you are a member of a professional association, check if they are attending Midem. Bodies such as AIM, Stemra, Sounds Australia, the German Pavilion, AFI, the American Independents and British Music at Midem regularly attend the fair. Check if they have a special rate that you can use. Some offer rates around the €500 mark.
Note that there are also Midem rates for young companies (EUR595 and students (EUR295). See the site for details.
This info was originally sent to subscribers of the Cannes or Bust newsletter. If you want to get inside tips like this sent straight to your mailbox in time, simply sign up here.