Last-minute savings for International Finance Forum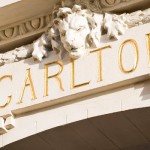 For the past 5 years, the Winston Baker International Film Finance Forum has provided a fascinating meeting place for everyone involved in the numbers side of the movie business. As the 6th edition is selling out, this is your last chance to register for the event, again being held at the Carlton Hotel in Cannes this Friday May 15th.
It's a very straightforward format: bring together key executives from the various sides of the business to talk about the hot subjects of the day. Last year's Forum had its share of frank and sometimes surprising comments from both sides of the Atlantic.
The quality of the event lies in the quality of the people attending. This year producers, distributors, financiers, agents, and executives that have worked on noted films such as 12 Years a Slave, American Hustle, Black Swan, Cake, Dallas Buyers Club, Django Unchained, End of Watch, Gosford Park, Iron Lady, Looper, Midnight in Paris, Silver Linings Playbook, The Artist, The Butler, The Constant Gardener, The Hurt Locker, The Imitation Game, The King's Speech, Vicky Cristina Barcelona, Zero Dark Thirty and more.
Key topics of discussion at the forum will include:
View From the Director's Chair: Banking on Content vs. Talent
Is it Real Movie Money or Just Another Big Yacht Passing By?
Staying Ahead of the New Co-Production Curve
Breaking into the China Market: Power Players and Strategic Partnership Opportunities
Distribution Re-Defined: Selling Films and Making Money in the On-Demand Age
At the end of the forum, a private reception will be hosted for speakers, sponsors and registered attendees.
This one comes with a Cannes-or-Bust must-see badge (which I haven't actually designed yet, so just take my word for it). Enter promo code WB10 and save 10% until May 14th..