Save money by registering for Midem now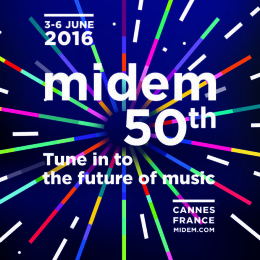 If you are on the fence about attending Midem this year, it's time to decide. The early bird rate is valid until March 31, 2016. After that the price jumps from €650 to €900. You can do a lot of things with those extra €250!
This year, Midem will be celebrating its 50th anniversary with live concerts, encounters between professionals and unequaled networking. For the first time, it will also host the Midem Awards ceremony. Its other two major events are the famous Midem Accelerator (for uncovering new talent) and Midem Lab (for music-related apps and services)!
Midem from 3 to 6 June is: 5,500 participants, 75 countries including 35 pavilions representatives, 237 artists and not less than 93 conferences!
At the time of writing this, the music line-up has not been finalised. But you can get an idea of the extensive conference side at this link. Midem is typically where new business trends emerge and are explained, as well as where new services such as SoundCloud and Spotify are uncovered. It is also where the worldwide music business meets and does business.

To see the various ways to sign up, visit the Midem website.