Previews and classics from Italian cinema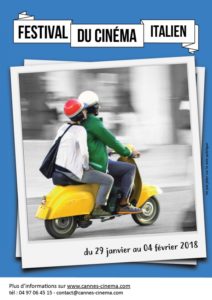 Italian cinema seems to have slipped from the headlines in many ways. But the second Festival du Cinéma Italien in Cannes is determined to show that it remains a vibrant scene. Between Monday January 29 and Sunday February 4, 2018, it will show a series of classics and previews.
The goal, according to the organisers is to demonstrate that "the new Italian filmmakers have forgotten nothing of the creative force of the golden age but know how to look sharply and boldly at the world around them".
Films being shown include "Viva la libertà" by Roberto Andó (with Toni Servillo), "The Widow" by Dino Risi, "La famiglia" by Ettore Scola and a series of avant-premières, "La Soffa dei Sogni", "L'affranchi" and "Dopo la Guerra". Many of the movies have won numerous awards.
Full details on the festival website.
It's worth remembering that the Miramar cinema is closed until March as the hotel is undergoing a deep renovation.