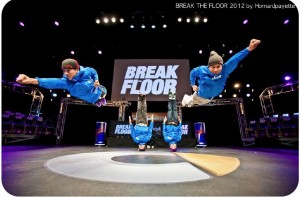 Cannes might seem an unlikely place for Hip-Hop to exist. Not only does it exist, it flourishes.
Let's hear it for Break the Floor
Remember when rappers used to say "Put your hands in the air"? The break dancers of Break the Floor throw everything in the air.
Some of the world's best hip-hop dancers challenge each other in gravity-defying moves that push the limits of the human body to seemingly-impossible levels.
The 4×4 battles and stunning choreographies bring together crews from the USA, Japan, Russia, South Korea, France (naturally) and the Netherlands.
Bringing breakdance to Cannes
The organising team also put together workshops and demonstrations to coincide with the event. Also, look out for the dancers as they often make spontaneous appearances on the Croisette and elsewhere.
The next Break the Floor event is Saturday January 20, 2018.
More info: ring 04 92 99 33 96 or visit Break the Floor