Tips about where to stay in Cannes

There are two main options when choosing a place to stay in Cannes for events such as Midem, Mipcom, Mapic or the Cannes Film Festival: within walking distance of the Palais or further afield. This is because the town of Cannes is broadly split in two.
Good value hotels close to the Palais
The inner ring
A dual carriage-way (voie rapide) separates the two sides at the level of the railway track. This is about 7 minutes by foot from the Palais at its shortest distance. However it stretches in the direction of Nice. The last reasonable walking distance is about at the Jardin Alexandre III near the end of the Croisette. You are now about at about 25 minutes by foot if there are no crowds. In the other direction, the inner city stretches over to the tip of Le Suquet, about 15 minutes by foot (again, without crowds).
Within this broad sweep, there is just about every grade of hotel from the expensive Croisette "Palaces" (Martinez, Intercontinental Carlton, Majestic Barrière and Palais Stéphanie, formerly known as the Noga Hilton), to more accessible hotels and holiday flats. These latter are used by companies during the festival as offices and homes and tend to be booked out very far in advance. There are also a large number of one- or two-room "studios" and apartments to rent in this area.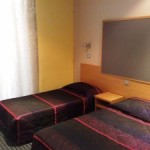 Good value hotels outside the centre:
Where to stay beyond the ring
Prices beyond the ring drop, and again the options are very wide. The choice now lies between uptown or the outlying suburbs. As accommodation is always an issue, the major trade fairs organise shuttle buses from the "résidences" (sometimes called apart-hotels) in places such as Le Cannet and La Bocca. Ask about them when booking. These holiday flats are handy as they mean several people can share accommodation, making them a good option for people running stands. However, the actual state of the apartments vary, as they are sometimes rented out to school groups. If they say "sleeps up to six", count five.
A word of advice about the morning shuttles: get an early one! As they run every 30 minutes, it's best to plan to get to the Palais earlier. Between 9 and 10, the buses are frequently full. So the only other option is calling a cab if you want to be on time. Also, people running stands should ensure that someone is at the Palais from 9 sharp. If you're in Cannes La Bocca, a bus trip into Cannes takes about 15-20 minutes rush hour (7 in the evening!) and costs €1.50.
People staying in Juan-les-Pins should bear in mind that bus n° 200 is often full on weekends. Check the train timetables. If you run late, the hotels have preferential calls to the taxis. But getting into Cannes centre could set you back €30 as opposed to €1.50 on the bus. My advice: leave well on time!

I hope this article will have been of use. Feel free to make comments or forward the page to someone you know. I deal with specific aspects of travelling to Cannes on the rest of the site. First time in Cannes? Then you should check our tips for a first visit to Cannes for Midem or the film festival. Keep up to date using the RSS feed, follow me on Twitter or why not get Cannes news straight to your mailbox. I cover Cannes, music and movie biz news.
Want 9 tips about good-value things to see when in town? Try these Cannes tips.
Michael Leahy