In addition to the Cannes Film festival, Cannes has also being hosting the annual Pan-African Film Festival since 2008. African cinema is largely overlooked by many festivals. This makes the Cannes event an important showcase for movies from Africa and the broad African diaspora.
Pan-African, global movies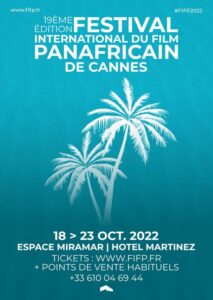 The festival typically hosts a selection of movies from Africa itself while also showcasing movies from African movie-makers that are active around the world. So the festival features cinema from countries as varied as South Africa, Mali, Morocco, as well as the UK , France and US.
Each year, the festival shows rare movies, runs workshops and also hosts music and fashion shows centred around pan-African issues. A gale evening is also held, this year at the Martinez Hotel on the Croisette. Some 5,000 people attended the screenings in 2020.
"The FIFP is a moment, a unique experience, where Pan-African cinema and African cultures along with the diaspora throughout the world, is made available to everybody," according to its founder Eitel Basile NGANGUE EBELLE. "It has an amazing energy."
The festival was typically held in the last week of April and first of May. But due to COVID-19 (and closeness to the other – bigger – festival), the 18th edition was put back to October. 
A pass that gives access to all the screenings and events is available. "Buying it in advance keeps the festival independent," notes Ngangue Ebelle. "This participation provides vital supoprt to alternative festivals such as the FIFP."
For details about the Pan-African Film Festival and ticket sales, check here.
Submit your film to the 2023 Pan-African Film Festival
The 18th edition of the movie festival will be held between from October 17-22, 2023 in Cannes. Submissions are open until April 30, 2023 (depending on how you submit). Films can be submitted online for about €50. Visit the FIFP submission page
Alternatively, contact the organisers:
NORD-SUD DEVELOPPEMENT / NSD Groupe
Adress: 32 rue Louis Pérrissol
06400 CANNES
FRANCE
Mobile: 06 10 04 69 44