An offshoot of the Midem music trade fair, Midem Africa was launched in April 2021 billed as the first pan-African digital music event dedicated to the continent's most vibrant music markets.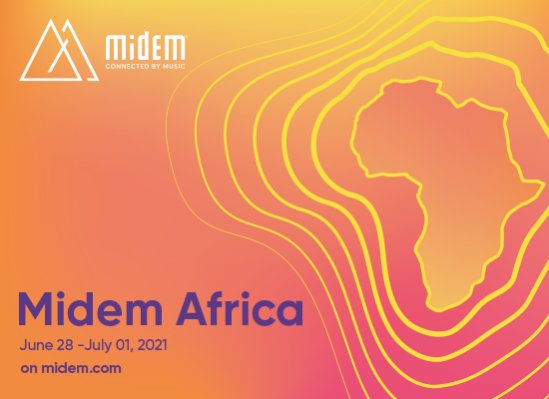 From 28 June to 1 July 2021, visitors get four days to scope the emerging music scenes in Africa. The event will feature the latest trends and opportunities, and provide key insights and tools through a series of panels and keynote sessions. The goal is to foster networking and accelerate careers and business among key local music players and their regional and international counterparts.
Leading artists and executives from all corners of the continent will share their insights into the important trends and the most promising stories from their markets.
Midem Africa – Business Accelerator programme
The scenes in Africa cover a wide variety of situations. Some can count on well-structured media outlets and venues, whereas others struggle with a lack of business infrastructure and networks. Yet no-one doubts that Africa is a source of huge and largely untapped musical talent and growing business opportunities. Midem Africa intends to provide answers to questions such as:
How to monetise music in different countries
Why the artist's entourage is so important
How to promote music
How to leverage business opportunities.
These issues will be addressed at Midem Africa – Business Accelerator, a four-day programme created for DIY artists and executives to help and support them navigate an ever changing but exciting environment. It addresses a key weakness in many countries' business environment: the lack of managerial structure.
Meet African music professionals and take your business to the next level
Midem Africa follows a series of smaller events that the music trade fair has been organising in different African cities over the past few years.
The organisers estimate that the event creates a network of more than 12,000 international Midem delegates on the platform that can be reached through official networking sessions or individual meetings. More on the Midem website.