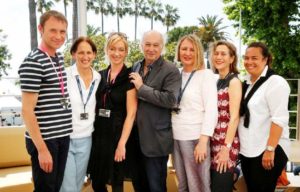 At a special session held during the Cannes Film festival, Briony Hanson, Director of Film at the British Council since 2011, was elected by European Film Promotion's General Assembly as a new member to its Board of Directors. The change in midterm was necessary after Polish member Izabela Kiszka – on the Board of Directors since 2015 – was appointed Head of the Production Department at the Polish Film Institute and resigned from her EFP duties.
A "challenge and an opportunity"
For Briony Hanson the new task is a welcome challenge and a great opportunity to work as a UK film industry representative in an European initiative: "I think the UK has a unique position within EFP – sometimes not an altogether comfortable one as we stand to one side in terms of our language, access to Eurimages, and a general confusion about our cultural identity caught somewhere between Europe and the US! However, I also hugely value the UK being part of the programme delivered by EFP and embrace the similarities as well as the differences between us."
10 Eurimages-funded films at Cannes
In related news, ten European co-productions supported by the Eurimages Fund have been selected in different sections of the Cannes Film Festival 2016. Four of them have been selected in official competition:
La fille inconnue (BE, FR) by the Dardenne brothers, Baccalauréat (RO, FR, BE) by Cristian Mungiu, Toni Erdmann (DE, AT) by Maren Ade and Sieranevada (RO, FR, HR, BA, MK) by Cristi Puiu.
Two films are in the Un Certain Regard section, Caini (RO, FR, BG) by Bogdan Mirica, and the French-Belgium animation film by Michael Dudok de Wit entitled La tortue rouge;
three co-productions will be screened in the framework of the Director's Fortnight selection, L'économie du couple (BE, FR) by Belgian director Joachim Lafosse, Ma vie de courgette (CH, FR) by Claude Barras and Wolf and Sheep (DK, FR, SE, AF) by Sadat
Shahrbanoo; a film supported by Eurimages has been selected in the Critics' week: Albüm (TR, FR, RO) by Mehmet Can Mertoglu .
EFP is supported by the Creative Europe – MEDIA Programme of the European Union, its member organisations, and public and private sponsors. More information can be found at European Film Promotion.
Members of the EFP Board of Directors: Christian Juhl Lemche (Danish Film Institute), Briony Hanson (British Council), EFP Vice President Pia Lundberg (Swedish Film Institute), EFP President Martin Schweighofer (Austrian Films), Nerina T. Kocjančič (Slovenian Film Centre), Mariette Rissenbeek (German Films) and Françoise Lentz (Film Fund Luxembourg). photo © Kurt Krieger/EFP