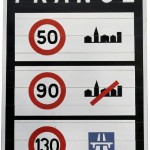 Note: the original post dates from 2009, but I update this info fairly regularly, as strikes are frequent in France.
If you're within driving distance of Cannes and prefer not to take the train for whatever reason, you might be interested in following our travel tip: carpooling.
Or if you drive to Cannes regularly, why not find some company and save on costs? Carpooling is a way of finding people to share road journeys and costs (petrol and toll fees).
You might also be trying to organise a visit during one of the frequent SNCF train strikes.The region has its own carpooling service, Equipage (in French), for people that live and travel globally between Mandelieu and Menton on the coast, and Isola inland. At the time of writing, there were five trips to or from Cannes. The idea is an attractive one, giving you the flexibility of car travel without the need to rent a car.
If you already live in the region, it also reduces the number of cars on the road which is not a bad thing given the sometimes monumental traffic jams that sometimes take place on the motorway, and the possibility of considerably cutting petrol costs. It could also free up a car for other purposes if you have a companion.
BlaBlaCar (they also have an app BlaBlaCar app)
You might also be interested in finding out what to do in case of rail or air strikes in France.