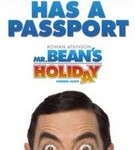 Although not many people actually noticed it, a film was being shot at last year's Cannes festival: "Mr Bean's Holiday", the second feature from Rowan Atkinson's comic character. In the film, Mr Bean buys a raffle ticket and through a series of tricks and mishaps finds himself on a train to Cannes with a video camera. He meets a range of movie characters and becomes one of the sensations on the Croisette.
The reviews are so-so. But a few quotes caught my attention. The film is in many ways a homage to the French comic Jacques Tati and his classic "Mr Hulot's Holiday". One of the characters in the film is an ego-driven director played by Daniel Dafoe. "My comedy in the film… is less slapstick and more parody," he told the Glasgow Herald. "A very thin parody, though, because my character is pretty close to the real world. I've seen some things on film sets. What you see in Mr Bean's Holiday is nothing. As far as film-makers go, I like the crazy ones as opposed to the quiet ones."
Atkinson is known for comedy classics such as "Blackadder", "Not the Nine O'Clock News" and "Mr Bean", as well as films such as "Love, Actually" and "Scooby Doo". "Mr Bean's Holiday" is being released in the UK on March 30, followed by other European countries through April. US release is slated for August.
Rowan Atkinson on Amazon UK
Rowan Atkinson on Amazon US