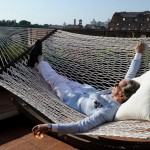 La Grande Bellezza emerged as the clear overall winner at the recent European Film Awards held in Berlin on December 7, 2013. Paolo Sorrentino's examination of decadence, beauty and paradise lost picked up awards for Best Film, Best Actor (Toni Servillo), Best Editing and Best Director.
La Grande Bellezza was presented at the Cannes Film festival 2013, but was passed over in favour of another remarkable film, "Blue is the Warmest Colour". It is currently on release in a number of countries and listed for other awards, notably the Oscars as a Foreign Film.
Italy was well represented at this year's event in Berlin, as Ennio Morricone was awarded for his work in Giuseppe Tornatore's "The Best Offer" starring Geoffrey Rush and Jim Sturgess.
See the complete list of winners.
La Grande Bellezza. Aristocratic ladies, social climbers, politicians, high-flying criminals, journalists, actors, decadent nobles, prelates, artists and intellectuals – whether authentic or presumed – form the tissue of these flaky relationships, all engulfed in a desperate Babylon which plays out in the antique palaces, immense villas and most beautiful terraces in the city. They are all there, and they are not seen in a good light. Jep Gambardella, 65, indolent and disenchanted, his eyes permanently imbued with gin and tonic, watches this parade of hollow, doomed, powerful yet depressed humanity. All the effort of life, disguised as specious, distracted entertainment. A dizzying moral lifelessness. And behind it, Rome, in summer. Stunningly beautiful and indifferent. Like a dead diva.
Sorrentino revisits La Dolce Vita in a lush, brilliant ode to vacuity and redemption.
If you saw the film, tell us below why you think the jury chose it as Best European Film?