Cinephiles meet Thierry Frémeaux and catch Robin Williams premiere
Cannes film fans will have a rare opportunity to meet and talk with the key players in the upcoming Cannes Film Festival on Monday May 9 at the Théâtre de la Licorne, 25 avenue Francis Tonner. The representatives of the various sidebars will be in town to talk about their various selections and will meet: Thierry Frémaux general manager of the Cannes Film Festival, Edouard Waintrop of the Directors Fortnight (Quinzaine des réalisateurs), Charles Tesson of the Critic's Week, Fabienne Hamid of ACID and a representative of the Visions social selection. Gérard Camy, president of Cannes Cinéma, will present the Cinéma des Antipodes selections and Cannes screens Juniors.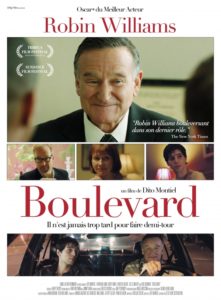 ☞ the presentation will be followed, at around 9:00 p.m., by the preview screening of the movie Boulevard of Dito Montiel
☞ tickets for the film: between €2.5 and €6.5.
Directed by: Dito Montiel Scenario : Douglas Soesbe
Cast: Robin Williams, Kathy Baker, Roberto Aguire…
United States – released May 18, 2016 – 1 h 24 – In English, with subtitles
Although Nolan and his wife Joy live under the same roof, they have had separate bedrooms for a long time. A model bank employee, Nolan always seems absent and indifferent to a possible promotion. Nothing seems to be able to fill the void in his life. One evening, while travelling along a deserted avenue, he meets Leo, a raw young man. Catching up on lost time, Nolan finds new meaning in his life and finally decides to stop lying to himself…