All trade fairs such as MAPIC 2022 have the same nagging doubt: will people turn up again after staying away due to Covid? A lot has happened over the past two years. Lots of habits have been changed. How relevant can trade fairs be?
For its 27th edition, the retail fair MAPIC (November 29-December 1, 2022) is promising to "re-invent" itself. Last year' first post-Covid event was disappointing. But the organisers are talking about a healthy 6,000 retail professionals in Cannes this time.
For a retail event, one of the biggest issues facing the industry is the incredible explosion of e-commerce and home deliveries of every sort. MAPIC itself points to the new consumer that is more aware of the impact of retail in terms of humanity and the planet. How are retailers reacting?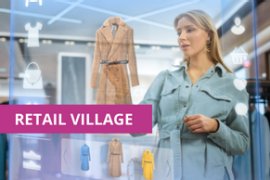 MAPIC 2022 – initiatives in retail
To face these transformations four special sectors get particular attention. The four key points are New Retail (Retail Village), Leisure (LeisurUP), Food (The Happetite Forum), and Innovation (MAPIC Innovation Forum). These will notably showcase new players in digital marketplaces, fast delivery specialists and DNVB (Digital Native Vertical Brands).
LeisurUp
Like last year, LeisurUp will try to identify and select the best leisure solutions and partners to turn traditional retail site into broader lifestyle destinations. The integration of immersive experiences in shopping centres is one example.
The Happetite
Looking at restaurant chains, The Happetite provides the international food industry with a forum to debate the growth of dining in retail and urban destinations. New business models, innovation and new best practices are to be discussed, along with a private lunch for Private Equity players.
Innovation driving the retail transformation
With the focus on the most recent digital and technological innovations, MAPIC INNOVATION FORUM will showcase cutting-edge solutions that could enable greater integration of physical and digital channels. So retailers and landlords can aspire to providing the buzzwords such as consumer-centric and seamless experiences.
Ultimately, MAPIC 2022 is not reinventing itself. It remains a talk-shop for the retail industry. But there can be no question it will provide a forum for chains, brands and property developers to plan the next few years. More details on their website.