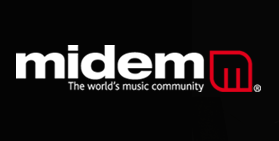 This year, MIDEM is introducing a special section for companies that bring innovative digital services. Some are consumer-based, others provide services that could be used by artists, labels or brands. All were chosen by a panel of experts from the music and digital sectors and will be at MIDEM in January, presenting their services
I've included here the presentations as they come from MIDEM. In other words, I haven't road-tested the services myself.
UPDATE September 2022: Dead links have been removed, but I leave the text for the archives. 
Aviary/Myna (USA)
Myna, the new audio editor by Aviary, is a free online artists' tool. This creative suite allows users to create, arrange and remix music tracks and audio clips, composed from Aviary's library of 3,000 loops and beats and/or user‐recorded tracks. They are currently working with artists, like Major Lazer, to run remix contests, allowing musicians to engage with their fans on a creative level.
Awdio (France)
Awdio is the first internet platform enabling you to listen to clubs and venues in real‐time from all around the world. With more than 5000 Events broadcast per mMonth from more than 150 TOP clubs and venues worldwide, Awdio aim to become an alternative to music piracy by offering a real‐time music experience, with both an ad‐supported model, and a premium‐paid model.
BandCentral (UK)
BandCentral is revolutionising band management for a new music industry by helping bands to manage themselves online. BandCentral gives bands their very own online 'Band HUB' with all the tools they need to communicate with each other, store files, manage gigs, merch, music, money, fans, contacts and everything else associated with their band in one central, secure and instantly accessible place.
Band Metrics (USA)
Band Metrics is a data analytics and decision support system for the music industry that provides comprehensive quantitative and qualitative analytics with in‐depth geographical reporting on social, radio and fan segmentation.
DigiClef/Release Consulting (UK) ‐
DigiClef is a brand new way of retailing sheet music via smartphones. Our mobile apps display legal professional quality tabs with touch‐sensitive controls that allow Musicians to adjust the tempo of the music easily. DigiClef unlocks the value held in sheet musical arrangements, packages it in state‐of‐the‐art technology, and then delivers it directly to musicians on their iPhones.
GoMix (UK)
GoMix is an interactive music format that lets users create personalized remixes of major artist's songs. Distributed via Social Networks and digital album bundles, GoMix brings labels new revenue and promotional opportunities through advertising and digital retail products. In 2009 GoMix has been adopted by a succession of major artists and advertisers. 2010 will see very significant evolution, adding virtual goods, a mobile platform and a game changing User Generated Content approach.
Kickstarter (USA)
Kickstarter is a new way to fund creative projects and ambitious endeavors that's radically different from traditional funding channels. Kickstarter is not about investment or philanthropy. Instead, people get rewards and share experiences that are unique to each project. Kickstarter launched in April 2009 and is based in Brooklyn, NY.
Pops Worldwide (Vietnam)
POPS develops, aggregates, and distributes media content, delivering it through cross‐media platforms in Vietnam. They offer digital music to mobile users through a range of WVAS platforms over mobile networks and the Internet. POPS markets its services online and offline through telecom operators, as well as through non‐operator channels, such as online stores, handset vendor partnerships and mobile retail chains. POPS launched the first digital music kiosk throughout Vietnam.
Radionomy (Belgium)
With Radionomy, everyone can create its webradio for his community. It's easy, free and fun. It's easy because Radionomy provides free software to create and manage the radio, vast music, jingles and content libraries. The Radio Creator can integrate his own music, creations & audio content. It's free. Radionomy covers Streaming and Rights. Radionomy inserts 4 minutes of advertising in the radio to cover its costs.
Silence Media (UK)
Silence Media is a cost per engagement (CPE) advertising network for banner advertising. Its clients only pay when people engage with their banner ads by rolling over them. Silence works with Europe's and America's leading entertainment websites and was responsible for them working with the CPE model for the first time. Its clients include Sony, Universal, EMI, Beggars and PIAS.
Songkick (UK)
Songkick is the home for live music online. Fans can track their favorite artists and we email them tour alerts with links to buy tickets. After the gig, they can see and share photos, videos, posters, and setlists. Songkick is the largest database of concert information in the world with over 1.2 million concerts from 1960 to the present day.
Streamjam/The Electric Sheep Company (USA)
The Electric Sheep Company's latest product, StreamJam is a free application for putting live concerts and music events online. Fans need no plugins or downloads to enter 3D virtual clubs, meet other fans, dance, and watch, hear, and interact with their favorite artists. Event holders, at no cost, generate new revenue from virtual goods, tips, and tickets.
Thesixtyone (USA)
Thesixtyone is a fun way to explore new music: artists submit their work, but rather than allowing a boardroom to decide what's cool, the listeners do. We'll help you discover new artists and let you earn reputation and unlock achievements for recommending songs that other may enjoy. On thesixtyone, experiencing new music becomes spontaneous, engaging, and trackable.
Tracksandfields (Germany) ‐
Tracks and Fields is the web service that connects musicians, producers and the music industry to work on new projects. Artists from all over the world find the right people to write, produce or remix music and collaborate through dedicated tools. Companies post briefings for remixes, film, game scores or production jobs, receive custom‐made pitches and hire professionals with a few clicks. Tracksandfields.com has been in beta through 2009 and officially launches on the MIDEM 2010.
Tunewiki (US)
TuneWiki is the internationally award‐winning social media music player with the largest legally‐licensed lyrics database in the world. TuneWiki is revolutionizing the mobile music experience by combining subtitled lyrics with music and music videos, lyrics translations into over 40 languages, real‐time mapping, geographical charting and social networking. Our lyrics centric mobile games create new music monetization opportunities to music owners.