I thought it might be interesting to create music tips for MIDEM 2010. If you have any tips, feel free to add them as a comment below. If you are involved with the act, add your details or company name at least so people can reach you. But be selective!
The video above is "Se ne va" by the Italian pop quartet Millionaire Blonde, which I think could be a pretty strong summer hit (so much so that I just did the English lyrics, which is why I give them star billing!). If interested for licensing, get in touch with me. Click through for some other great music tips.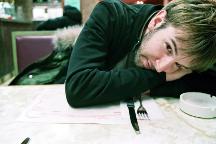 The MIDEM Talent section has a few artists that I think are really worth following. Variety recently picked out my three recommendations from a few weeks back: Irish singer-songwriter Lisa Hannigan, French spiky girl group The Plasticines and Switzerland's jazz singer Sophie Hunger. Check the Midem page for their shows.
I'd add to that a strong Canadian presence with notably Jason Bajada and Matthew Barber. Both are playing on the Canadian Blast night at Morrison's on Tuesday 26. Stay tuned for more tips.
On the African front, check the conscious rap of Zulu Boy or the accomplished songwriting of The Parlatones (who appeared last year as well – how many times has this happened?).