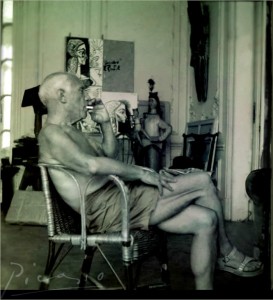 In 1955, a young American graduate camped out in front of Pablo Picasso's house in Cannes, hoping to meet the artist. Over 50 years later, he came across the photos and diary that he kept of what became a defining moment in the life of photographer Frederick Baldwin.
Baldwin went on to become a highly-respected photographer in his own right, working for Audobon, Life and the Smithsonian Institute. Of his three days in Cannes, he writes, "I had long ago decided that losing the Picasso images was not important because nothing could compare with the memory of the event… It provided me with powerful stimuli to my life and career. It affected the course I would take for the rest of my life."
The photos and story are now available as a charming free e-book from ZoneZero. Or find out about Baldwin on FotoFest.
UPDATE: The Malmaison art centre in Cannes will run a special Picasso event between July 1 and September 30, 2012. "Les chemins du sud /Paths through the south" charts Picasso's travels and works from when he moved to Vallauris in 1942. It includes 10 major works by Picasso, as well as his photomontages with André Villers.
A series of photos have been enlarged and are posted around Vallauris and Cannes over the summer.
Centre d'art La Malmaison
47 boulevard de la Croisette
06400 Cannes
Tél :+33 (0)4 97 06 44 90
Fax :+33 (0)4 97 06 45 31