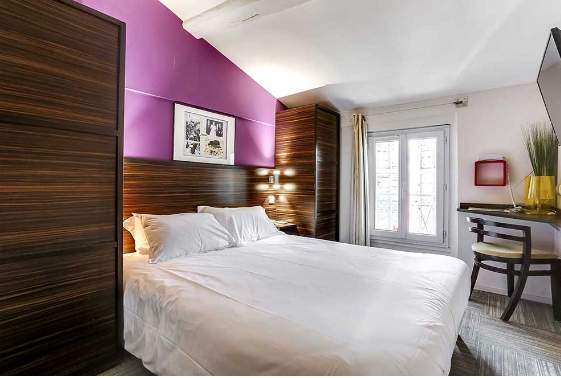 Le Mistral Hotel, Cannes used to be a reliable 2-star hotel just off the Croisette. It has since been upgraded to a 3-star.
There is a lot to be said for the cheaper hotels in Cannes. If you are hesitating about attending a trade fair, it is far better to come and reduce the budget than to stay away, in my opinion. But you have to find a hotel that offers a good deal.
Amongst the good value and commendable hotels in Cannes, le Mistral Hotel is worth checking. It is located on the Rue des Belges, about two blocks away from the Palais. This already means there is no need for taxis, shuttle buses or long walks. It's easy to drop back to the hotel after a day in the Palais (or beach), freshen up and head to the restaurant.
Friendly service
Rooms at Le Mistral are smallish, but modern and (since the upgrade) perfectly usable. The service has been friendly from every account I have heard. The breakfast is fine (which is already an exception in Cannes), and you are right in the heart of Cannes anyway so you can always find one to your liking a street away at most. The only real downside of the hotel is the fact that there are no lifts, and you might find yourself lugging luggage to the top of the building. But that's just one more reason to remember the golden rule of travel: travel light.
Parking downtown is always an issue. Le Mistral has a drop-off place that means you can go look for a parking spot later.
So you get a comfortable stay in a pleasant hotel at very competitive rates, which makes Le Mistral a Cannes or Bust type of hotel!
Le Mistral Hotel can be reached by foot from both the station and the bus terminus (which is a little further). Check now for availability.
If you have had any experience at Le Mistral, drop a message below.
Still hesitating? You'll find broader tips about staying in Cannes at Cannes: Where to stay.