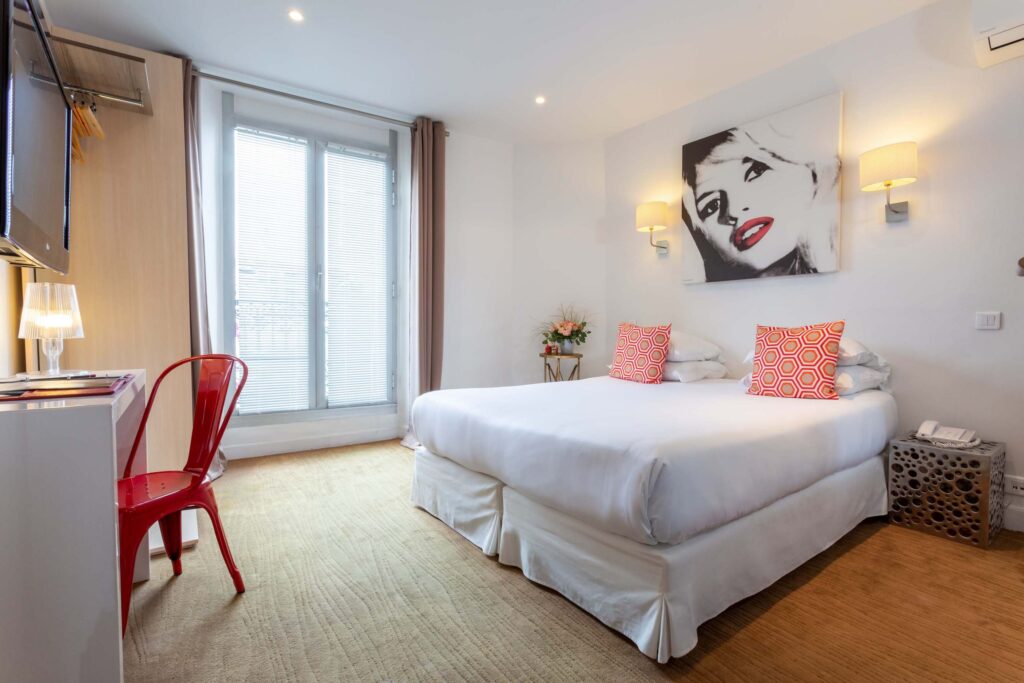 Although things move at a slow pace in Cannes hotels, things are definitely changing for the better. The news this week is that the Hotel Colette has been rated four stars. The hotel located opposite the railway station has now become a stylish and friendly place to stay for people that like city-centre locations.
Let's get one thing out of the way: what you don't get at the Colette are the palm trees and shimmering sea views you associate with Cannes. This is a hotel rooted in one of the busiest areas of town at n° 5, Place de la Gare. On the other hand, you are still only a five minute walk from the Croisette, beach and Palais (if you are attending Midem, MIPIM or the Cannes Film festival). There are also many places to eat and drink, with a busy open air market just around the corner.
Tips for staying in downtown Cannes
Although Hotel Colette boasts about its soundproofed windows, if you are a light sleeper I would still advise you to do the same as in any downtown hotel in any city: bring a set of earplugs. They really are better than spending a night complaining about scooters or car horns. If you don't need them, they don't take up much space in your luggage.
The Hotel Colette has 47 rooms, including two suites. Travelers will appreciate the free wi-fi in rooms and public spaces. There is a business centre and cosy reading space. The hotel also offers assistance with printing and the use of computers as well as laundry and shoeshine services. Electric bikes are available for guests, which is very handy for visiting the town or getting around when the roads are blocked off for the festival.
All in all, the Colette has been developed for business travellers that enjoy somewhere friendly to stay. Another advantage is that the train can drop you within 10 minutes of the airport for just over €5.
For more general tips about choosing the right hotel, visit Where to Stay in Cannes.