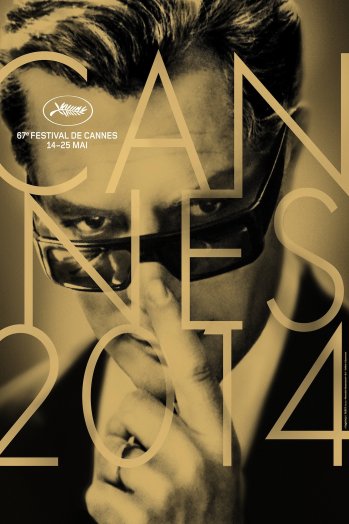 True to the previous posters, the Cannes Festival 2014 is still using classic images to promote itself. The 2014 poster features a very stylish shot of Marcello Mastroianni from Federico Fellini's "8 1/2", taken from the scene where he spots Claudia Cardinale's character for the first time.
At the risk of repeating myself, it's ironic that the most forward-thinking festival in the world uses classic images as their flagship image. But rather than being a total spoilsport I'll admit it is a very striking image. It will also doubtless re-launch the sales of oversized sunglasses and Brylcreem.
Designers Hervé Chigioni and Gilles Frappier wax lyrical about Mastroianni in the press release. "The way he looks at us above his black glasses draws us right in to a promise of global cinematographic happiness — the happiness of experiencing the Festival de Cannes together." Err, if you say so.
Cannes and Italian cinema
Although Italian cinema has lost a lot of its panache since the heydays of the 60s ("8 1/2" was presented at Cannes in 1963), it still can pull punches. "Last year's "La Grande Bellezza" springs to mind, although it could be argued that its referential Fellini-like touches actually imply Italian cinema has yet to shed the pull of the sixties.
Nonetheless, the organisers claim, "In Marcello Mastroianni and Federico Fellini, we celebrate a cinema that is free and open to the world, acknowledging once again the artistic importance of Italian and European cinema through one of its most stellar figures."
By way of a cinema antipasto, this is the scene from "8 1/2" where Mastroianni's eye is caught by Cardinale.
Classic Italian sunglasses
What do you think? Any other iconic shots you would have preferred to see as the poster? And if you're looking for those iconic sunglasses, try Amazon. It has never been confirmed, but it's possible Mastroiani was wearing Persol sunglasses in the movie and promo shots.