Tips for dressing at Cannes – during the day and evenings
Cannes is known as the capital of bling, but also of ultra-formal black-tie screenings. And what's appropriate during the day? So what should you wear at Cannes? Take 5 minutes to get the best tips.
When it comes to dressing right in Cannes, the first thing to consider is when you are going. There are major events here almost every six weeks. Events such as MIPTV & MIPCOM, Midem, the Cannes Film festival, Cannes Lions and the Pan-African Film festival all attract different people for different reasons. So the way you dress is determined by the what you intend to do.
The easiest ones are MIPIM and MAPIC. Dress-code: expensive and hyper-conservative. Basically, they consist of an army of men in well-cut dark suits and women in "sensible" skirts.
Midem, MIPTV and Cannes Lions are quite easy too. These are very much come-as-you-are events. Midem is the pre-eminent music trade fair. So you can expect every sort of music person, from people in traditional African robes, to Hip-Hop crews or the latest trends from Paris and London. It is held in June, which means it can be hot. You might not need that scruffy biker jacket during the day. 😉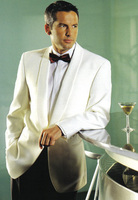 What to wear at the Cannes Film Festival
The Cannes Film Festival deserves a chapter all of its own. But to simplify: during the day it is largely a trade fair held in a town that can get very warm (average temperature 16° – but it can reach 25°). So dress smart but comfortable. Shorts for men are OK during the day. In the evening, there are three scenarios.
The first is a black-tie screening. That means guys in tuxedos or dark suits and ties (no exceptions) and women in swanky evening dress (go for it, girls!). Some people rent in town rather than bringing their own. Others think they can break the rules (as if!) and end up scrambling at the last minute to find a tie or jacket. In both cases, see our handy links below.
The second is a movie-related reception. Unless otherwise specified, these are less formal, but smartness and/or trendiness is recommended.
The third is a "fashion" or sponsor events. These tend to be hyper glamorous and have only the slimmest connections to the movie world. If you have to ask what to wear to one, you will probably be out of fashion. So just relax and enjoy the show.
Whatever you wear and wherever you end up, do remember to have fun. Cannes can fill up with people that are chronically in love with themselves. But there is plenty of opportunities for meeting fun people and enjoying the vibe. Keep business cards handy at all times, and try to listen more than you talk.

Renting evening gear in Cannes
if you have time , you might might also want to check if the clothes shop Devred has any stock. They sometimes do special deals around the time of the festival that can match the price of a rental.