Cannes finally launches its own TV series festival
CANNESERIES, the international TV series festival, will have its debut show from April 4 to 11, 2018 at the Palais des Festivals. According to the organizers, the purpose of the event is "to showcase TV series from the whole world, as a voice for this new and ultra-creative folk art".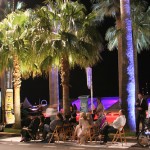 The festival has been a long time coming. Although different projects have been started (including two in France), many people felt that Cannes was a natural choice, given the presence of the festival and MIPCOM/MIPTV.
"The U.S. studios know about Cannes, and recognize it's a good way to market their series," artistic director Albin Lewi told Variety. "We're having a lot of talks with them. We are very confident of having U.S. series in competition and out of competition. We're living a great moment. European series can now travel and glean great audience figures in the U.S. So everybody's welcome: U.S. studios, platforms and the rest of the world."
Promoting excellence in TV series
The project is organized by an independent association chaired by France's former culture minister Fleur Pellerin, will promote excellence in the genre. The goal is to bring together the best of the players in the world of TV series, discover the talents of tomorrow, and to create an international competition for series of all genres and lengths – something which has been sorely missing so far.
In addition to a competition that will feature a dozen series, the event is also announcing sessions for heritage series throughout the city, with masterclasses, meetings, writing residencies (see their website), digital events and other bon-bons. 😉 The Danish actress Sidse Babett Knudsen will be the MC.
Cannes or Bust will keep you posted about news, but you'll also find info on their website. If you want to apply with a series (including in short formats and web series), follow this link (and let us know how you get on!)