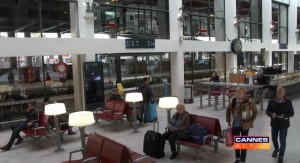 With prices starting at €19, the new OuiGo trains will doubtless be a popular way to reach Nice and Cannes from Paris (and vice versa, of course). Two trains a day will run in each direction, bringing a maximum of 1,268 passengers at a time. The run time is just under 6 hours.
The times for the trains are:
2 departures from Nice to Paris at 5 :57 and 13:57.
2 departures from Paris to Nice 7 :07 and 17 :12.
This might be of interest to people that are making plans to attend the Cannes Film festival 2018 in May. But I recommend booking well in advance for a chance to get a cheap seat.
TGV cheaper than flying
​​​​​Although millions of people travel by high-speed trains in France, they are often criticized as they are more expensive than flying for mid-haul flights under 6 hours. The SNCF is placing itself in a very competitive position with these prices. In general, people prefer trains to the hassle and expense of reaching airports outside towns (the trains are generally city centre to city centre – and this is certainly the case in Cannes). So one can expect the lower prices to sell out quickly.
On a random price check for December, however, I was offered prices of €55 for Paris-Cannes.
The prices come… at a price. As these are low-cost journeys, passengers will pay extra for large suitcases, access to electric plugs and quiet zones. The trains will have neither first-class seats nor bars for drinks and snacks.
Other destinations from Paris will be offered soon, with Toulouse slated first.
Details and bookings at OuiGO.fr