True to an unspoken tradition, the Cannes festival poster 2023 again plays on nostalgia. This time, it brings us actress Catherine Deneuve on a beach near St Tropez in 1968 where she was shooting La Chamade (Heartbeat) for Alain Cavalier, based on the book by Françoise Sagan.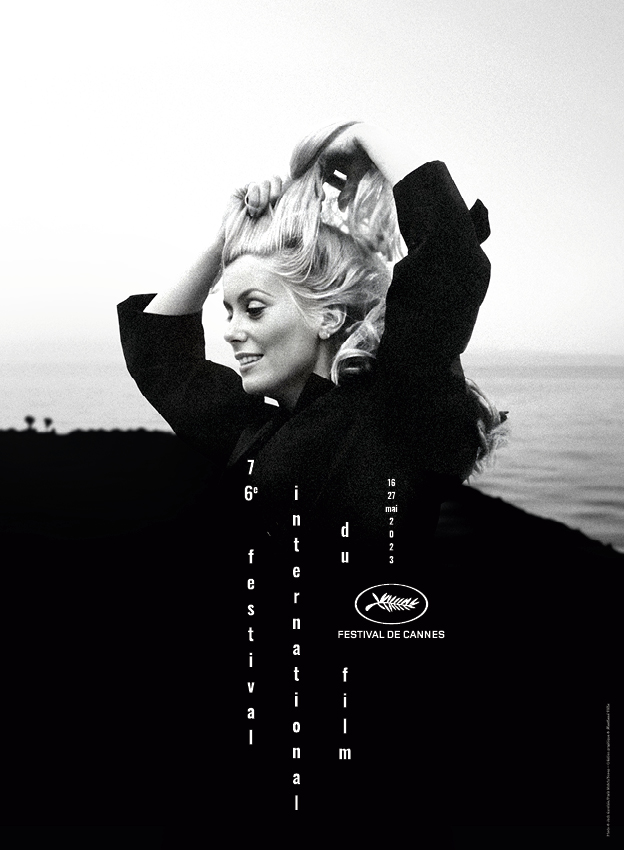 In the press release, the festival waxes lyrical about Deneuve: "The actress of Peau d'Âne is an incarnation of cinema, far from conventions and convenience. Without concession but always close to her convictions, even if it means going against the grain of the times. She is the muse of Jacques Demy to Agnès Varda or Luis Buñuel, of François Truffaut to Marco Ferreri or Manoel de Oliveira, of André Téchiné to Emmanuelle Bercot or Arnaud Desplechin. Her collaborations [with them] are in the pantheon of immense filmmakers of yesterday and today. Catherine is the link between them."
Put more simply, she is a flexible and committed actress that takes risks. The parallel they are making with the Festival is easy to see.
2023 poster image by Jack Garofolo
The image itself is remarkable. Jack Garofalo was a French photographer that often worked for Paris Match, doing celebrity shots, many in Cannes (recommended).
This shot from 1968 shows a young Deneuve at the first peak of her early career. She is striking, confident and totally at ease in front of Garofalo's camera (he would shoot her several times over her career).
Garafolo went on to create iconic images of Harlem in the 70s.
The poster is the work of Lionel Avignon and Stefan de Vivies of Hartland Villa. The image is spartan, with the text running vertically, making it practically illegible. One wonders why they bothered keeping it. It would have been more elegant to just feature the Cannes Festival logo and the year.
The festival will run from May 16-27, 2023.