Brighter railway station facilitates travel to Cannes
Cannes railway station was notorious for the millions of people that arrived in the town by train. The ageing station had far outlived its usefulness, and gave a depressing and inefficient image of Cannes. The surprising new station that was recently unveiled offers a totally new face to the town, and the idea of getting there by train. After two years of work, the new hall of approximately 900 square metres is both stylish and bright with an outdoor terrace. A courtyard on the top floor allows travellers to use a drop-off of 88 places.
Nearly 4 million train passengers per year
"We really needed the station to be renovated and made accessible to people with reduced mobility," says Françoise Brunetaux, deputy mayor and alderman for public works. "Some 3.8 million passengers arrive in Cannes by train, and it's the first thing they see. What could be more beautiful than to find the steps as soon as you arrive at the train station?"
The north side of the station will be redesigned and renovated at the level of the Boulevard d'Alsace by phonic elements that will reduce the noise of trains in order to improve the quality of life of residents (and people staying in the hotels there).
New hotel under construction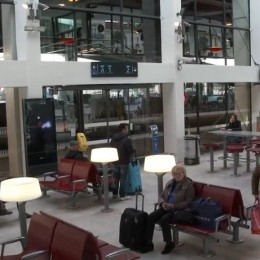 For the reception of travellers, a hotel with 125 rooms is being built, along with a crèche and shopping arcade. Further work will continue on the central square for the different modes of transport such as the Palm Express buses and taxis early January.
As a reminder, one of the cheapest ways of getting to Cannes from the airport is by train and it is an excellent way to get into town if you are staying in Juan-les-Pins or Cannes-la-Bocca.There are also connections to the high-speed TGV network and trains to Monaco and Italy. Thello recently inaugurated a daily service to Milan.
The major problem with the trains along the line is that they are often full and are subject to delays as there are largely only one track each way for most of the line. This leads to knock-on effects whenever a problem arises. New investments have been slated but have yet to be put into action.
Have you used the train to get to Cannes? Any tips or gripes you want to share?
Cannes station on the SNCF website (in French)