The Quinzaine des Réalisateurs 2021 (Directors' Fortnight) has unveiled its poster for Cannes 2021, from 7 to 17 July 2021!
The image, by photographer and filmmaker Daniel Mercadante, is part of his series "The Enchanted Forest". It was created through a process that combines long exposure photography, light projection and juxtapositions.
The artist "paints" the trees with coloured lights using handheld flashlights and long exposure techniques. This brings a temporal dimension to the image, that photography shares with cinema. The wide spectrum of colours is supposed to reflect the richness and diversity of contemporary cinema that the Quinzaine defends.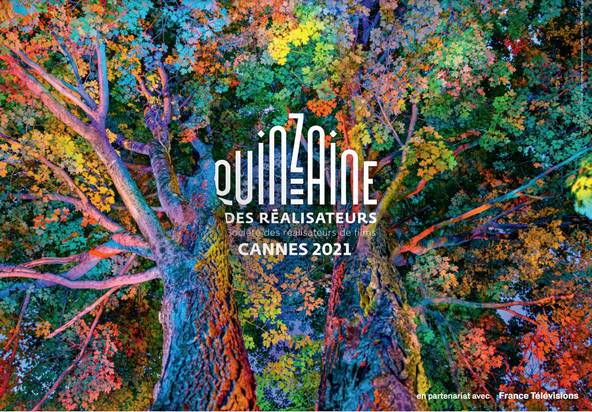 The Quinzaine 2021: freedom of tone and spirit
The Directors' Fortnight is a parallel selection of the Cannes Film Festival that aims to highlight the most singular and visionary practices of contemporary cinema. Infused with a contemporary spirit and challenging the codes of narration and representation, these films are chosen and accompanied by a team of passionate professionals.
Over the years, the Qunzaine has championed filmmakers such as Werner Herzog, Rainer Werner Fassbinder, Nagisa Oshima, George Lucas, Martin Scorsese, Chantal Akerman, Djibril Diop Mambéty, Jim Jarmusch, Michael Haneke, Spike Lee, Naomi Kawase, Jean-Pierre and Luc Dard And more recently Albert Serra, Clio Barnard, Lisandro Alonso, Céline Sciamma, Ruben 'Stlund, Xavier Dolan, Bertrand Bonello, Alice Rohrwacher, Joshua and Ben Safdie, Miguel Gomes, Chloé Zhao and Robert Eggers.
Due to the coronavirus crisis last year, the Quinzaine decided to support three movies that should have had their premieres at the 52nd Fortnight: Italian director Luca Guadagnino's series We Are Who We Are, US filmmaker and artist Miranda July's Kajillionaire, and French director David Dufresne's The Monopoly of Violence.
Directors' Fortnight in action
The Quainzaine will again support Fortnight in Action in 2021. This aims at providing access to culture and image education to fight discrimination and promote equal opportunities.
The scheme is aimed at those who, for geographical, financial or social reasons, do not go to the cinema.
According to the association, "50% of the population does not have access to culture. Despite a rich cultural offer, the democratization of culture is stalling. The upper and upper-educated middle classes are still the main beneficiaries, while cultural practice and the relationship to art are essential to personal development and social cohesion".
To convey this desire for culture, cinema is a great tool. It is a window on the world, it helps us to understand our times, sharpens our critical minds and develops our free will. It is also a collective experience that allows for social and intergenerational diversity.
Image education must be one of the main priorities of our society to reflect on the images we are saturated with today and to understand cinema as anything other than a consumer and entertainment product.
For more details, visit the Quinzaine/Directors Fortnight website.