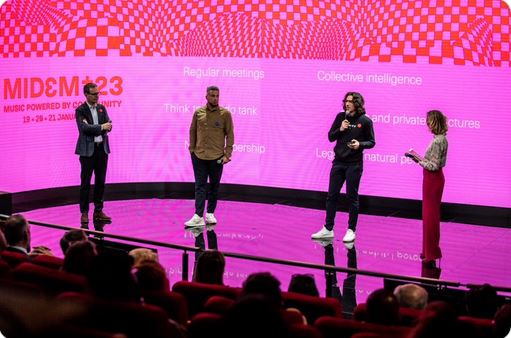 MIDEM+ 2024 is gearing up for the first official edition of the trade fair in Cannes on January 24-27. For those that are new to the business, MIDEM was the foremost intentional music trade fair for some 50 years, eventually collapsing under the weight of turmoil in the business and COVID restrictions. It was THE place to go to bring your acts to a world stage or find the hot releases before anyone else did!
By the time it folded, MIDEM was already an enthusiastic showcase for music tech. Soundcloud and Spotify both had their introductions there.
Rebirth of the music industry
The new organisers (which include the city of Cannes itself) are rather optimistically dubbing it the rebirth of the industry. There is much talk of reinvention and change. The thing is, reinvention and change will happen anyway – and can be super-dangerous for the business.
What places like MIDEM+ bring is the opportunity to know what is happening and understand the possible implications before anyone else.
Speakers at MIDEM+24
So where does MIDEM+ think things are headed? If I look at the list of first speakers, we are in a very tech world. The organisers want to "unite music for a future of dialogue and innovation in the music industry".
Sébastien Borget, COO & Co-Founder of The Sandbox
Jean Bourcereau, Managing Partner at Ventech
Srishti Das, Founder of Hivewire
Aranyaka Verma, Founder of consultancy Of the Wilderness
Bruce Hamilton, General Partner at Everybody Ventures
Robin Wauters, Founder of Tech.eu
Nick Holmsten, Founder & Co-CEO of TSX Entertainment
Anne McKinnon, CEO & Co-Founder of Ristband
Per Sundin, CEO of Pophouse Entertainment
Oscar Höglund, CEO & Co-Founder of Epidemic Sound
Steve Astephen, CEO & Founder of The Familie
Lorrain de Silva, Managing Director of Best Nights VC
More names will be announced in the coming weeks.
What is MIDEM+ about?
To get an idea of what MIDEM+ will actually be about, I recommend spending some time surfing these links. Think about them. Several are start-ups offering meta-like environments. Others are looking for content, with a few consultants and venture capitalists thrown in.
See any affinities or potential? Got anything you can pitch them? Would they be useful to you in any way? For this exercise, you have to think 2-3 years ahead. For some time already, MIDEM has not just been about selling/buying music, but about acquiring market knowledge.
Although these first speakers are heavily skewed towards tech and finance, MIDEM's promise is to focus on music. As there are also going to be live events, future announcements will most likely flesh out that side of the event. Brands will also be present, as well as public debates on creative policy and other related issues.
To check the events and rates (spoiler: pro passes start at €590) visit MIDEM.com There are currently two streams, MIDEM and the Musee business club with different levels of access.
If you have any questions about doing business in Cannes, drop a note below or read the Cannes Starter Guide.